Getting Started With
PSSC
Everything from registration and prices, to practice times and required equipment, you will find what you need here.
Registration Forms and Prices
Season Duration
September 13, 2023 – March 18, 2024
Times
Mondays: 5:30 pm – 6:40 pm
Wednesdays: 6:20 pm – 7:30 pm
Location
Arena B: Panorama Recreation Centre 1885 Forest Park Drive, North Saanich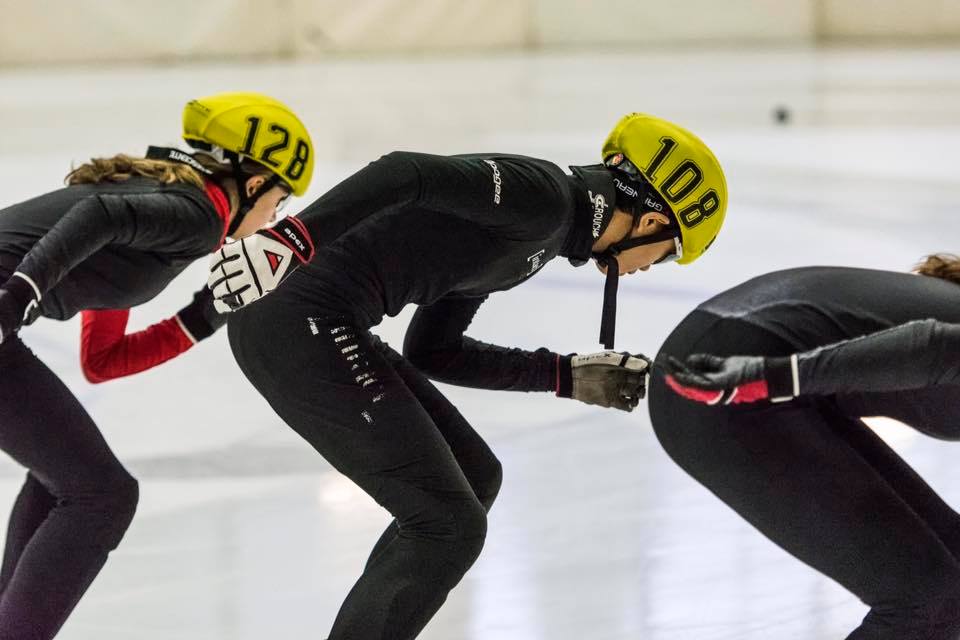 Mandatory Equipment
The following is a list of equipment that is mandatory for all skaters. The equipment must be on BEFORE a skater goes on the ice. The club has some loaners for new skaters and can help with ordering. Specialty store for some equipment such as gloves, glasses, ankle guards and skate protection can be found here.
Helmet
Regular bike or hockey helmets are fine for practice, but if you compete in a race, you will need to get an approved speed skating helmet. Speed skating helmets can be ordered from the online stores listed here.
Gloves
Cut resistant gloves must be worn. These can be leather, Kevlar, or reinforced nylon braid. While you can buy Kevlar speed skating gloves, long finger bicycle gloves, curling, or baseball gloves work fine. For kids, you can find cheap bike gloves at Wal-Mart or Canadian Tire.
Cut resistant ankle protection
Socks or ankle tubes made of Kevlar or Dyneema must be worn by all skaters.
Knee Pads
Soft, volleyball style pads are preferred, although plastic roller sport pads are also acceptable. They can be purchased at sport stores such as Sport Chek or Canadian Tire. If possible, plastic pads should be worn underneath the skater's pants.
Hockey knee/shin pads are acceptable, but may limit the skater's movement. Knee pads that are built-in to a skin suit are also acceptable.
Speed Skates
If you do not have your own speed skates, they can be rented from the club for the season, but you will need skate cozies and guards, which protect the blades from damage. The best place to find these are from speed skating stores.
Shatter Resistant Protective Sports Glasses
The cheapest option are safety glasses. You could also buy clear lens bike or sport glasses at somewhere like MEC. Your glasses must be held on the head with a strap.
Neck Guard - Bib Style
These are the same as the neck guards used for hockey and can be purchased at Sport Chek, Canadian Tire or other sports stores.
Shin Pads
Hard soccer shin guards are best, but hockey knee/shin pads are also acceptable.
Many soccer shin pads come with built-in ankle protection. These cannot be used in speed skating because the ankle needs to be in the skate. If you cannot find ones without, you can cut off the ankle protectors.
What to Wear
Competitive skaters will wear Lycra speed skating suits, but loose fitting clothes will work, too, as long as they aren't too baggy. Running pants, yoga pants, tights, or even track pants are fine.
Any comfortable long sleeve shirt (long sleeves are mandatory) should do, although you will be better off in a wool or a "tech" fabric that doesn't retain moisture. Obviously it can get cold on the ice (especially during certain drills when you have to wait your turn), so a sports (running, cycling, etc) jacket is a good idea.
We often order club suits each year, so contact us if you are interested in purchasing one.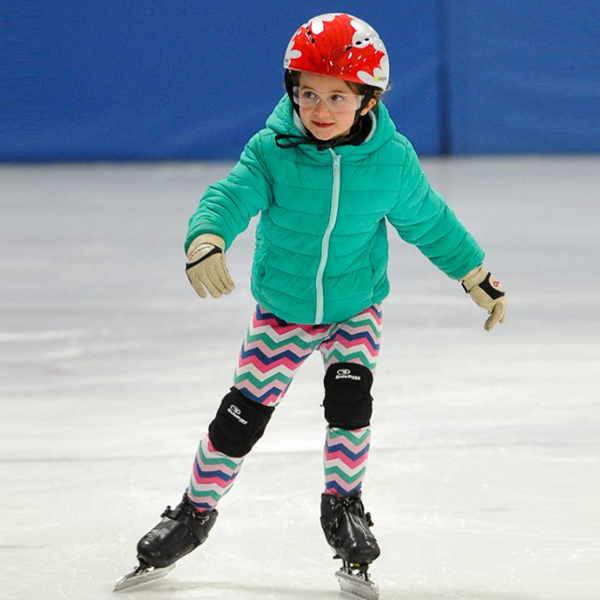 Caring for your Skates
Your skate blade is your most important piece of equipment. It's your connection to the ice and racers will obsess over a sharp blade. And unlike hockey and figure skates, speed skates are hand sharpened, so taking care of them — on and off the ice — will help keep them sharp longer.
Blades are also very expensive, so you want them to last as long as possible.
Here's how to keep your blades happy: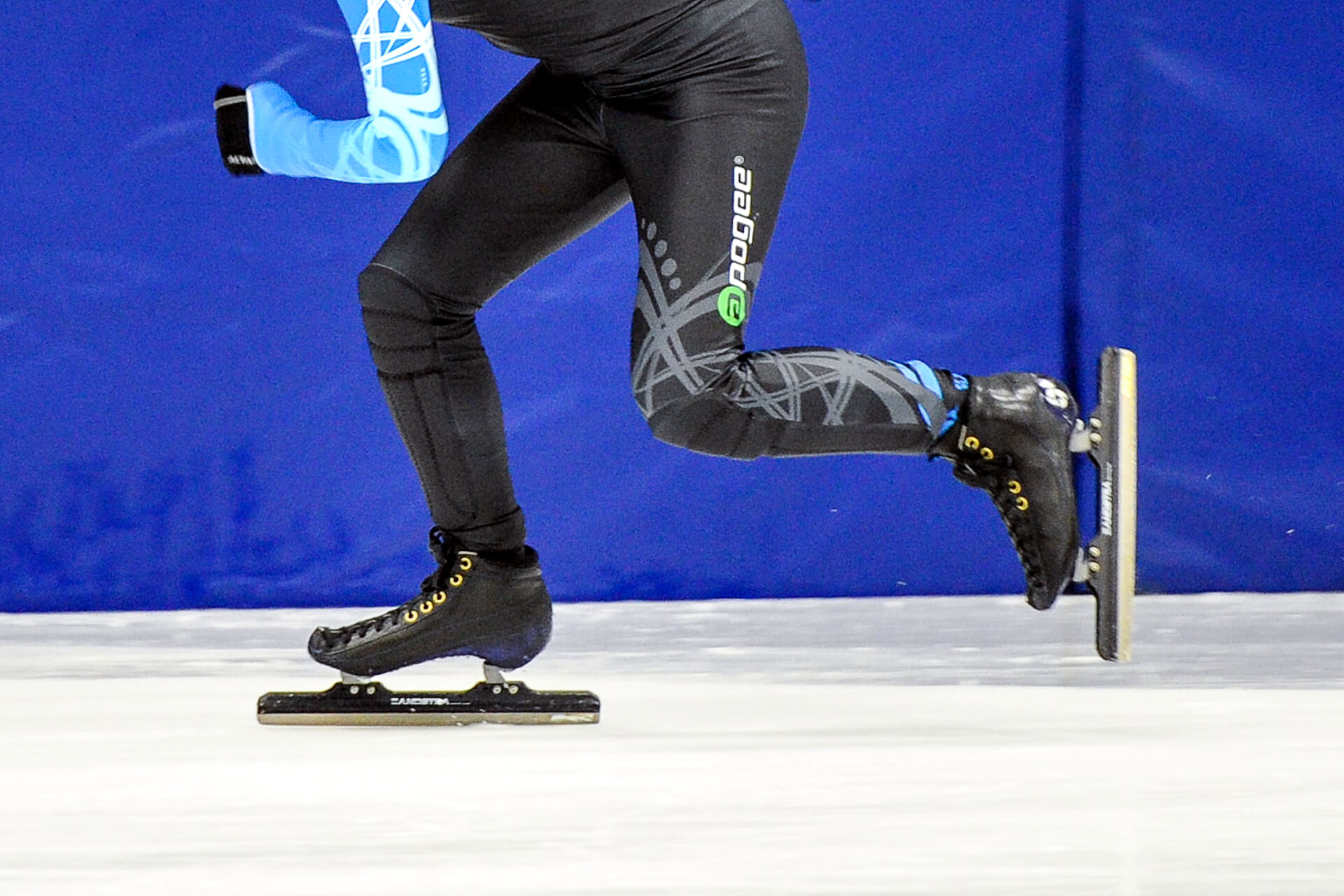 Always dry your blades thoroughly when you are finished with them (keep a towel in your skate bag) and do not store them in their protective plastic covers because they will rust inside them. Ideally you should transport your skates with a soft skate cozy on the blades to help protect them from nicks and dings. (You can order speed skate cozies through speed skating websites and, possibly, through the club.)
Your blades will need to be sharpened roughly every two months, depending on how you treat your skates, how much you weigh, and how often you skate. The coaches will sharpen them, but skaters (or their parents) are encouraged to learn how to help take the burden off the coaches.
Speed skating blades are not as tough as hockey or figure skating blades and treading on a small rock could damage them. Wear your guards from the change room to the rink and only take them off as you get on the ice. Put your guards back on as soon as you leave the ice.
How Practices Work & Ice Safety
Mats – Before practice can start, the safety mats must be in place around the boards. Parents who are able to help, pull the mats from our storage room and bring them near the rink door. As soon as the Zamboni is done, the skaters put the mats around the boards. At the end of practice, the mats have to be stored again. Usually adult skaters will bring the mats to the door while the coach organizes a game or two for the kids. Again, we need help from parents to put the mats back into storage.
Late Arrival – If you are late and skaters are already skating around the track, please wait at the door until skaters stop and it's safe to get on the ice. The door must be kept closed during practice.
Practice Groups – During practice, skaters are generally split into 2-3 groups. Speed skating is very much a skill sport, so the groups are not necessarily split by age. When one group is on the track, the other will be resting or doing drills inside the track. For safety reasons, skaters always skate counter clockwise and skaters inside the track should be careful not to stray onto the track.
Leaving the Ice – If you need to leave the ice during practice, you must ask a coach. Extreme caution must be used when crossing the track. 
Extra Practice
With only two hours on the ice per week, you may find yourself wanting more. Unfortunately Victoria's (relatively) warm winter prevents us from doing what most of Canada can do: head to the local pond or outdoor rink. We do have some options: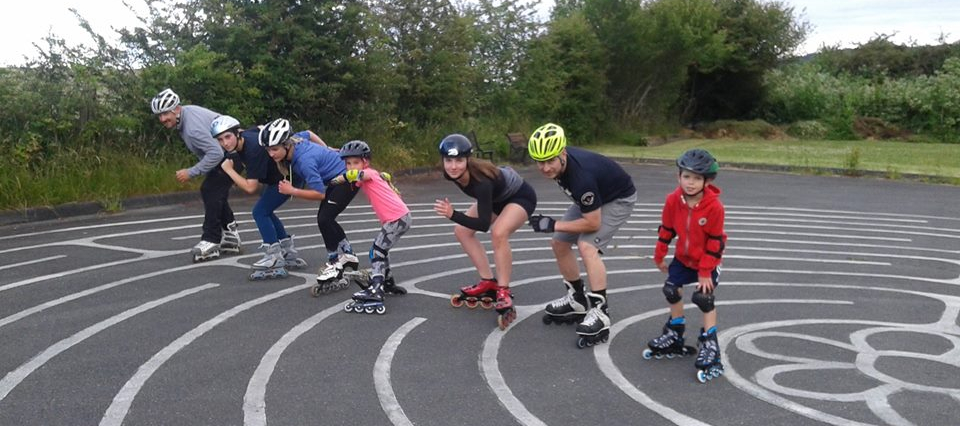 Inline Skating
You may not be able to go skate on a pond in January in Victoria, but you can go inline skate on the Galloping Goose. A pretty good imitation of ice skating, inline skating is also great fun and a great way to practice in the off season (or even during the on season).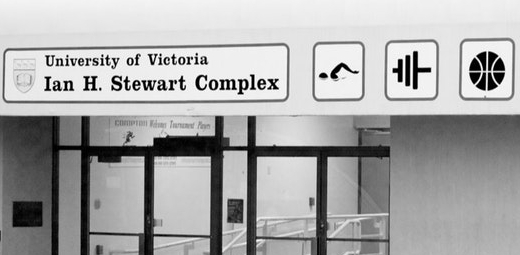 Public Skates
This is a great way for new skaters to get used to speed skates. All the local rinks have public skate times, though they can be really busy from September to February. One hidden gem is the rink at UVic's Ian Stewart complex. Since they don't rent skates, their public skates tend to be less busy.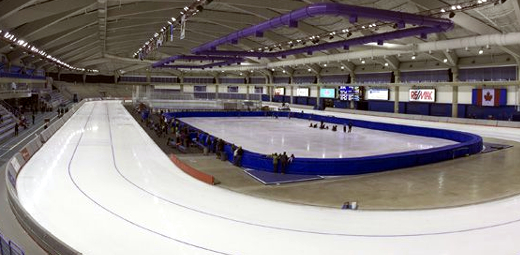 A favourite of many past and present members is the summer Speed Camp at the Calgary Olympic Oval. Held one week every summer (usually in July) this camp attracts kids (and adults) from across the country. Skaters have eight to ten ice times during the week on both the long and short tracks, dry-land practice, and a talk from the national team (and a chance to get autographs). The week finishes with races on Saturday morning. Visit the
Olympic Oval
website for more details. (If you happen to be visiting Calgary any time during the year, be sure to bring your skates and try the Oval during their public skate sessions.)